ColorCat is our newly developed practical color measuring instrument, there are three models for customers to buy. It has a complete range of color measurement functions and auxiliary accessories, and can be applied to test work in a variety of industries. It is an excellent domestic color measurement instrument with high cost performance. Colorcat APP is used with Weifu photoelectric colorimeter and spectrophotometer, with friendly interface and powerful functions. It can realize the functions of color measurement, quality report generation, color card search, color card number record management, etc. It is an all-round color quality management assistant.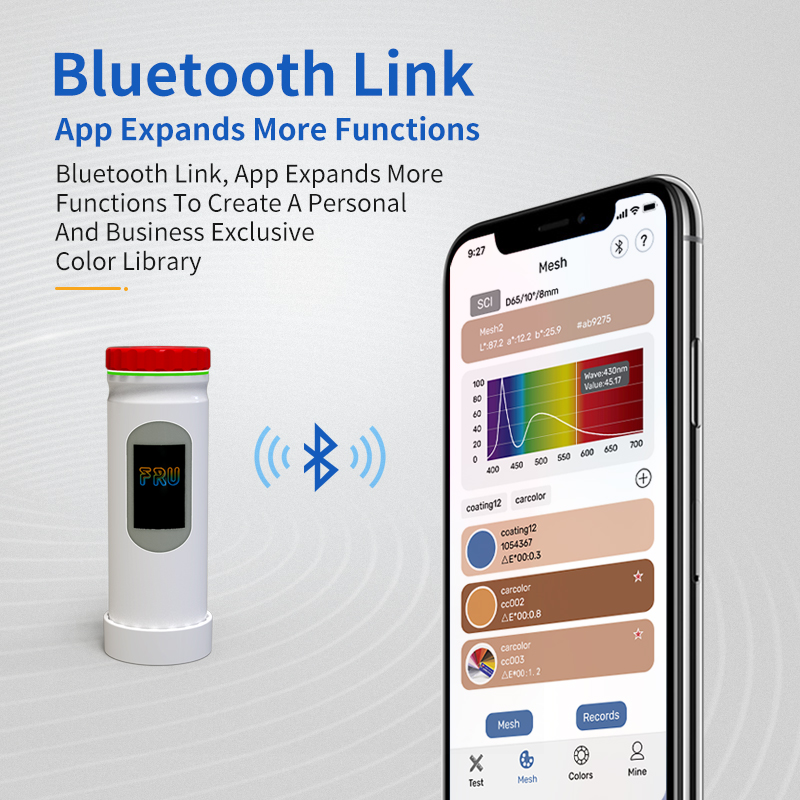 Feature highlights:
1. The body is small and lightweight
Small and exquisite, easy to carry, color measurement anytime, anywhere.
2. Patented knob design
Rotate/press the integrated button to complete the 5 main functions without APP.
3. Standard sample library support
The instrument has its own standard sample library function, which can call up standard sample measurement anytime and anywhere.
4. Support multiple measurement models
There are as many as 34 color spaces, 11 color difference formulas, and 26 measurement light sources, which can always suit your needs.
5. Accurate measurement and stable data
The principle of spectral spectroscopy, the accuracy is as high as 0.01, and the measurement is fast and accurate.
6. A variety of practical auxiliary software
Bluetooth mobile phone APP, USB computer terminal software, multi-device sharing and management of massive color libraries.
7. Multiple report output support
One-click generation and sharing of measurement reports, a good helper for quality control.
8. Cloud color card library synchronization connection
Your portable electronic color card library can store and search massive color cards anytime, anywhere.
9. Large capacity lithium battery
Powerful lithium battery power supply, to ensure the battery life for your color quality control.
10.Professional protection for measuring caliber
Comes with an optical protection sheet to protect the measuring aperture, moisture-proof, dust-proof and pollution-proof, and more durable.
Parameter:
Model

ColorCat

ColorCat Pro

Repeated accuracy

△E*ab≤0.1

△E*ab≤0.05

Solution

0.1

0.01

Measuring Speed

1.0S

0.5S

Light Source Type

Full spectrum LED

Full spectrum LED & UV

Battery Capacity

More than 6000 times after full charge

More than 10000 times after full charge

Geometric Condition

d/8

Measuring spot (Caliber)

8mm

Wavelength coverage

400nm~700nm

Calibration Method

Automatic

Wavelength interval

10nm

Color Space

CIE-Lab, CIE-Lch, Luv, Hunter-Lab, XYZ, Yxy, sRGB, DINLAB99, DENSITY (A) C, M, Y, K, DENSITY (I) C, M, Y, K, Munsell, reflectivity (Photopic vision), blackness, YI yellowness, metamerism (jumping light), hiding power, tinting power/strength/dye strength, color fastness, Taube whiteness, Berger whiteness, Tappi whiteness, Cros whiteness , Stephanser whiteness, Ganz whiteness (Ganz), Hunter whiteness, whiteness (ASTM), whiteness (CIE), AATCC whiteness, R457/ISO2470 whiteness, GB/T17644 whiteness

Color Difference Formula

△E*ab、△E*ch、△E*uv、△E*HunterLab、△E*CMC(l:c)、△E*94、△E*00、△E*sRGB、△E*BFD、△E*FCMII、△E*DIN99

Standard Light Source

A、C、D50、D55、D65、D75、F1、F2、F3、F4、F5、F6、F7、F8、F9、F10、F11、F12、CWF、U30、U35、DLF、NBF、TL83、TL84

Observer Angle

CIE10°(1964)、CIE2°(1931)

Operation Method

Integrated Rotate/Press Button

Display

OLED Colored Display 1.14 inch

Language

Chinese/English

Interface

Type C/Bluetooth

APP System

Android/IOS/Windows

Storage

No limitation through APP

Dimension

φ31X96mm(Not including the white calibration board)

Weight

80g(Not including the white calibration board)

Packing List

Instrument、White calibration board、Data cable、User's manual、Warranty card